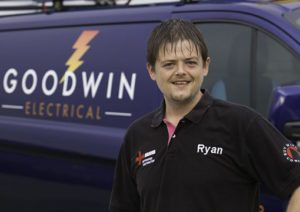 Ryan Goodwin becomes "Joint Owner at Goodwin Electrical".
Ryan Goodwin has worked hard at Goodwin Electrical as an Employee working alongside his father Bill Goodwin.
Ryan has  acheived his position as a Qualified Electrician, Solar PV Professional, Ventilation Professional with NICEIC advanced training and City & Guilds 2391 in Inspection and testing.
Ryan has reached this level over 7 years.
Now the time has come for Ryan to move from employee to Joint Owner at Goodwin Electrical.
I (Bill Goodwin)  as Ryans Father and former employer would like to give Ryan a massive congratulation in his acheivement.
Goodwin Electrical now moves from Sole Trader to Partnership.