Commercial Electrical work in Plymouth
Professional Services
When you want a job well done – get the commercial electricians at Goodwin Electrical to do it right – Our professional team of electricians puts the needs of our customers first – there's no doubt – you're in great hands with us! Get sustainable, flexible and trustworthy service that you can rely on! Whether you're in Plymouth, Plympton, Ivybridge, South Devon or the surrounding suburbs, we take the hassle out of every electrical issue. Find out why we're considered the number one commercial electricians in your area! Contact us to discuss your project today.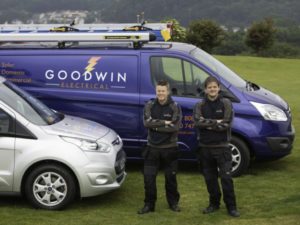 Commercial Electrical Services We Offer:
24 hour Emergency Service
Switchboard Construction, replacement and repair
Emergency and Exit Lighting
Telecommunications and data cabling applications
Risk Assessments and Fault Finding
Installation of Residual Current Devices – including testing
New builds wiring
Exhaust Fan and ceiling fan Installation
LED upgrades/installation
Appliance and equipment testing
Light fitting/power-point installation and replacement
Rewiring & repairs of lighting and power circuits
Rewiring of units, houses, townhouses and common areas
Goodwin Electrical brings unrivalled electrical services to domestic and commercial customers in Plymouth, Plympton, Ivybridge and surrounding areas! Specialising in all aspects of electrical applications; as well as 24-hour emergency services; the professionals at Goodwin Electrical take the lead when it comes to a wealth of outstanding industry expertise and knowledge. For customised and tailor-made solutions to your industrial electrical requirements look no further than the Plymouth trusted Commercial Electricians – Goodwin Electrical! Our team is on hand to service all your commercial electrical requirements – night and day! Are high standards and safety of utmost importance to you? Because it is to us! Rely on our expert commercial electricians to deliver well planned out and effective project management – that really puts your mind at ease. If you require commercial electrical services in Plymouth and surrounding areas, it doesn't get any better than our electricians here at Goodwin Electrical!
Here at Goodwin Electrical we're committed to providing our customers with cost effective solutions to all their electrical needs. As a commercial electrical team with a wealth of knowledge that covers a wide range of electrical disciplines – there's no doubt you'll have the right guys for the job!
Dedicated Team of Commercial Electricians
Don't compromise on cost or quality of workmanship; have both – with us! Our dedicated team of commercial electricians are fully trained to industry standards; up to date on industry methods and techniques; using the latest diagnostic equipment at our disposal!
If you need specific work carried out on your next project – we're here to help. Our commercial electricians are trained to carry out a wide variety of specialist electrical applications – that ensures the safety and integrity of every job we do!
When the worst happens – call a team of reliable electrical experts, that's on hand – every time! Trust our emergency electricians to take the pressure off any unexpected situations – we take control, and get you back on track, ensuring less down time, and more efficiency – so that your project meets your company objectives! With our electricians, you can rest assured that your every electrical requirement is taken care of.