Domestic Electrical work in Plymouth
Your Wiring Might not be Electrical safe
Are you safety conscious? When was the last time you checked your fuse boxes and wiring? In older homes the wiring may not be sufficient for our modern-day advances in technology and electrical appliances – which can exhaust the old wiring and put you at risk of electrical shortages and fires. Don't get a shocking surprise – call in our domestic electricians today. As well as our expertise in electrical wiring, we also cater to your repair needs, ensuring you get the most out your electrical appliances.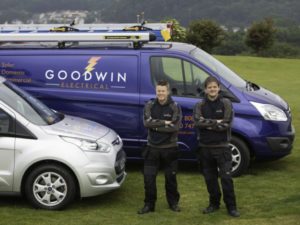 You can have complete peace of mind with our reliable electricians. We're licensed, qualified and fully insured – so rest is assured, you're in safe hands with us, here at Goodwin Electrical – your trusted Plymouth Domestic electricians.
As a residential electrical team with a wealth of knowledge that covers a wide range of electrical disciplines – there's no doubt we'll get the job done. Wherever you are in Plymouth, Plympton, Ivybridge or South Devon and whatever you need, make sure you put your faith in our qualified electrical specialists that makes your needs a priority. Here at Goodwin Electrical – we're the domestic electrical professionals that put you first!
Domestic Electrical Services We Offer:
LED upgrades
External & Security Lighting
Air-conditioning
Telephone/data/communications
CCTV
24 hour Emergency Service
Fault Finding
Home Entertainment
Stoves, oven, hobs and cooker hoods
Fuse board maintenance/upgrades/replacements
RCD Supply and installation
Circuit Repairs
Smoke Detector Installation
Appliance Testing
Installation or Replacement of Lights, light fittings, and power-points
Installation of Residual Current Devices – including testing
Rewiring
Exhaust Fan and ceiling fan Installation
External Lighting
Door entry systems
Car Charge points
Goodwin Electrical brings unrivalled electrical services to domestic and commercial customers for Plymouth, Plympton, Ivybridge and South Devon! Specialising in all aspects of electrical applications; as well as 24-hour emergency services; the professionals at Goodwin Electrical takes the lead when it comes to a wealth of outstanding industry expertise and knowledge. Let the team here at Goodwin Electrical take care of all your home electrical needs! We care about your safety – and we care about doing a great job! Count on our professional domestic electricians to get your job done right. If you're looking for Plymouth's most reliable and cost effective electrical services – look no further – we're here to help!
If it's a great deal and quality workmanship you're after – you can have both – with us. Our dedicated teams of domestic electricians are committed to developing their skills to stay adept with industry standards and up to date on industry methods and techniques. We also use the latest diagnostic equipment ensuring sustainable and cost-effective solutions that you can rely on. So, don't risk lives replacing that faulty socket, or the buzzing light switch – call in the professionals. On call for 24 hours a day, our friendly team of domestic electricians are on hand with great advice, and practical solutions for any home electrical problem.