Choosing a Consumer Unit
Introduction
The Consumer Unit, or fuse board is the most important electrical safety device in the home and workplace. It fulfills two vital functions:
1) Protecting cables (and subsequently appliances) from overload which can cause fire, and
2) Protecting humans from the electric shock caused by earth leakage
All households are different – from one bedroom apartments in the city to large country houses and all of them use electricity in different ways: Some have electric showers, some have electric hobs, others have tropical fish tanks, some have outdoor lighting and water pumps while others have workshops with machinery…
For this reason there is no such thing as a 'standard consumer unit' – but while the number of sizes, makes, brands and combinations of configurations is almost infinite there are in fact only four main types of consumer unit.
Used in conjunction with the circuit protection devices – (RCD, RCBO, MCB and Surge Protection) – these four types of consumer unit offer the homeowner and electrician huge flexibility of circuit design and budget. It is important to understand that in most domestic properties it would be possible to use any one of the four types of consumer unit along with surge protection, the decision being governed by budget and attitude to circuit separation.
Goodwin Electrical strongly recommend a Consumer Unit with RCBO's and Surge Protection.
Surge Protection explained
Surge protection is a device designed to protect a whole houses  electrical devices from voltage spikes. Therefore extend life of devices, reduce replacement needs and repair costs. This is a must if you have smart expensive electrical items like Computers, TV, Games Machines etc.
The Four Main Types of Consumer Unit
Main Switch Consumer Unit
A 'Main Switch Consumer Unit'(option with surge protection, as per photo above)  is so called because it is supplied empty of all protection devices except the main switch. Whilst it may be populated with an RCD and MCBs.
It is usually populated exclusively with RCBO's as shown in our image.
Goodwin Electrical consider this the best circuit protection solution with Surge Protection as each circuit is protected from overload and earth leakage individually, thus preventing nuisance tripping caused by earth leakage on other circuits.
Dual RCD Consumer Unit
A 'Dual RCD Consumer Unit' (option with surge protection)  is supplied with the main switch and two RCDs and offers a cheaper solution. Our image shows a typical installation with the two banks of MCBs protected from earth leakage by the RCDs.
Consideration must be given to circuit design in this scenario. You should not, for example put all the lighting circuits on the same RCD as an earth leakage fault on one of those circuits will cut power to the whole bank, leaving you without any lighting.
Despite the limitations of dual RCD consumer units, they remain extremely popular due to the cost. Indeed, most 'fully loaded' consumer units are dual RCD configuration.
High Integrity Consumer Unit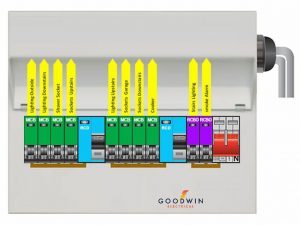 With three neutral bars, which in essence gives three banks of circuits – A 'High Integrity Consumer Unit' (option with surge protection) offers the best of both worlds…
Allowing for the use of RCBOs and two banks of MCBs they offer total circuit separation for critical circuits and highly cost effective protection for standard circuits.
High Integrity consumer units are becoming increasingly popular with electricians – because they make circuit design easy – and homeowners – because they offer excellent protection without breaking the bank. They are particularly good in projects requiring 12 or more circuits.
RCD Incomer Consumer Unit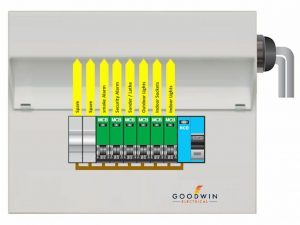 An 'RCD Incomer' consumer unit (option with surge protection) is a special type of protection device, generally used in workshops, garages, garden offices and sheds which use small numbers of circuits.
The defining difference between this and other types of consumer unit is the fact that it does not have a 'Main Switch'. Isolation of the board is handled by the single RCD. In other words, all incoming electricity is managed by the RCD – hence the name.
This type of consumer unit offers no circuit separation as it may only be populated with MCBs. Earth leakage on every circuit in the arrangement is dealt with by the one RCD. That means that a residual current fault on any circuit will knock out power to all other circuits. For this reason they are almost never used in the main dwelling.
Circuit Protection Devices
Before we dive into the consumer units, let's briefly look at the devices:
Surge Protection Device
Surge Protection Reduces Replacement or Repair Costs. Power surges can shorten the lifespan of your appliances and electrical devices.
A whole house surge protector can decrease the damage done to those item's overtime, reducing how often you pay to repair or replace them.
Main Switch

Isolates the entire consumer unit and all devices. Turning this switch to 'OFF' will cut power to all circuits that are terminated in the consumer unit – which is usually all circuits in the house. Nearly all consumer units are supplied with a 100a main switch.
RCD – Residual Current Device

Protects a bank of circuits from earth leakage or 'Residual Current' – for example – cutting through the lawnmower cable. Protecting a bank of MCBs means that earth leakage on one circuit will cut power to all other circuits protected by that RCD and is considered a form of 'nuisance tripping'. The most common domestic RCD is rated at 80Amp 30mA.
MCB – Mini Circuit Breaker
Protects cables and devices from overload and consequently fire. Under the latest '17th Edition Wiring Regulations', all MCBs must be used in conjunction with an RCD in order that the circuit is also protected against earth leakage.
MCBs are commonly available in the following amperage's: 6a, 10a, 16a, 20a, 32a and 40a.
RCBO – Residual Current Breaker + Overload

A special device which combines the functionality of both and RCD and MCB, protecting against both overload and earth leakage. This offers complete circuit separation negating nuisance tripping. RCBO's are more expensive than MCBs.
For all your fuse board needs call Goodwin Electrical on 01752 363915 or fill in the Quote Form