Fuse Board Upgrades and Replacement in Plymouth
We are specialists in replacing new Fuse boards in the Plymouth area.
A Fuse Board is also known to most homeowners in Plymouth as a 'Fuse Box', 'Consumer Unit' or 'Consumer Board'. Your fuse board may need replacing by Goodwin Electrical for a number of reasons, including:
Full home rewiring
Damage to existing fuseboard
Outdated fuseboard
Extra capacity required
Fuseboard relocation
Far too many homes still have old fuse boards. A fuse board replacement will provide much more protection to your home and more importantly, you and your family. A new consumer unit will bring your home up to current electrical safety standards.
Experienced Plymouth Electricians
If you do decide to have a fuse board replacement then it is very important to ensure that this job is undertaken by a fully qualified electrician who has many years of experience in fuse board replacements. Goodwin Electrical have completed hundreds of fuse board replacements and our clients have been more than satisfied with the end results.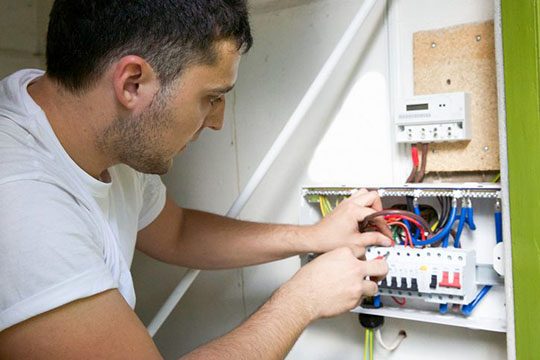 Only use a fully qualified electrician when replacing a consumer unit, please don't try to swap your fuse board yourself and don't choose someone who can't provide any paper work or hasn't got much experience n doing it, you don't want to risk it when it comes to electrical safety. Only Part P registered electricians can legally change a fuse board.
Please DO NOT be tempted into using anyone who IS NOT a fully qualified electrician to do electrical work in your property, even if someone offers you something very "cheap".
Follow this link to chose the fuse board best for you:- Choosing a Consumer Unit
Common Questions
Here are some common questions you may have about fuse box replacements:
If your electrical installation is safe and meets current regulations for an electrical installation then you won't need to upgrade. It can be very difficult to ascertain this information through just a visual assessment at your installation without any testing, the best way to make an assessment is to have an electrical inspection carried out.
There are a few indications that show you need to upgrade your fuse box, these include:
You have an old style fusebox with a wooden backing or cast iron switches – these will need to be replaced to ensure your safety.
You have no provision of RCDs (residual current devices) for wiring buried in walls, sockets circuits and outlets that might be used to plug in outdoor electrical equipment.
You are planning a building or home improvement project such as a new electric shower, an home extension or a loft conversion and additional wiring and new circuits will require installation.
Accidents involving electrics still happen more often than you may think, having an old, unsafe fuse board increases the risk.
The Electrical Safety Council have released the following eye-opening statistics:
around 70 people die and 1.2 million people are injured as a result of electrical accidents in UK homes every year
around 50% of fires in UK homes are caused by electrical faults, around 21,000 every year
almost all of electrocutions that occur in the home and around 20% of fires with an electrical origin could have been prevented by having RCD protection.
A fuse board replacement makes your home safer for you and your family. A fuse board replacement that is 17th edition RCD protected will make your home safer protecting you from the risk of electric shock & electrical fire.
An RCD protected fuse board is a life saving device that is designed to stop you receiving electric shocks. Half of homes in the UK don't have an RCD fuse board in place, putting the occupiers at unnecessary risk of electrical accidents.
Increase your home's energy efficiency. Replacing your consumer will increase the energy efficiency of your property. High performing electrical appliances benefit the environment, as well as saving you money on your utility bills.
Comply with electrical wiring regulations. Many homes around the country contain consumer units that are non compliant with current electrical regulations. A new fuse board ensures that you adhere to modern electrical wiring regulation requirements.
Electrical Work With a Guarantee
It's not just the price that matters, a qualified electrician will be fully certified, compliant and fully insured to carry out the work and should also have a guarantee after the job has finished. Goodwin Electrical tick all the boxes for the job.
Your fuse board is the main hub of your property, it plays a major part in all electrical aspects in your home. If the fuse board replacement is not carried out properly then your property will be in a very dangerous condition and your family/colleagues will be at risk from electrical harm.
If you are looking for work of the highest quality, carried out by a safe and experienced team you can trust, contact us today.