Solar Power Battery Storage
Solar power battery storage is the future for storing energy captured from the sun. Lets have a look at why this is the case and the products that we recommend.
Why solar Battery Storage
Take a look at the graph, this explains why you would consider installing battery storage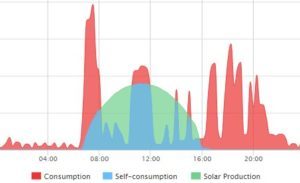 Maximise your Solar Power Savings: As can be seen from the graph above most of the power is usually consumed at breakfast before the sun really gets up and in the evening when the sun has set, so a standard solar power system cannot really cover this consumption. Most of the solar power produced during the day is actually in the green section and is surplus to the homes requirements so it is sent back to the grid at a very low rate. To best maximise the solar power it really needs to be stored so it can be consumed when it is really required, not necessarily when it is generated.
Backup Power: With a normal grid connected solar power system if there is a black out or brown out and power is not available from the street the solar power system will shut down as well – the solar inverter needs to be connected to the grid to function. With Goodwe battery storage you have backup power from the battery and solar panels when the grid is down which provides you with additional security and energy independence. No more spoilt food because of a fridge or freezer being without power because of a blackout!
What is domestic battery storage
In a nutshell, home battery storage allows you to store electricity for use at a later time. Many homes have solar PV panels installed which generate electricity during daylight. By adding a battery to the system this energy can be used later when the sun is no longer shining, rather than buying energy from the grid. If you're on a time-of-use tariff such as Economy 7, you could save even more on your bills by charging on cheap overnight electricity. And your existing feed-in-tariff payments will stay unaffected.
Why chose Goodwe Battery Storage for your home
Goodwe EH series Battery Storage Inverter
The GoodWe EH Series is a single-phase, on-grid inverter that includes a "Battery Ready" option for those users that eventually might wish to acquire a full energy storage solution. By simply purchasing an activation code, the EH can easily be upgraded to a complete ESS system. The EH is compatible with high voltage bat
teries (85-450V) and with a power deviation lower than 20W, this inverter is totally designed to maximize solar self-consumption. The fact that it takes less than 10 seconds to switch from grid to PV to supply power for heavy loads, helps users to avoid expensive intakes from the grid. Besides, it comes with an automatic UPS function and one of its most remarkable features is that even when it is on back-up mode it can still supply power to large loads such as air conditioners. The communication cables come pre-wired, which reduces the installation time significantly. Its Plug & Play AC connector makes the operation and maintenance significantly more convenient.
Why buy home battery storage from Goodwin Electrical
We have been installing Solar PV and now Battery storage since 2010. We have in depth experience of having worked on over 4000 systems. From installing a Solar PV system, upgrading systems, changing faulty systems, battery storage solutions Goodwin Electrical in Plymouth are there to meet all your Solar PV needs. Call us now on 01752363915 or fill in our contact form