Electrical Installation Condition Report Guide
An Electrical Installation Condition Report in Plymouth (EICR) or periodic inspection report in Plymouth, are often referred to by customers as a Landlord Safety Certificate or House buyers report.
The purpose of the EICR is to report on the condition of existing electrical installation to give the following outcome:-
SATISFACTORY – the installation is deemed safe for continued use.
UNSATISFACTORY – one or more issues of safety have been identified.
Recommended period between Electrical Installation Condition Report
Homeowners – BS7671 (18th Edition Wiring Regulations) recommend an Electrical Installation Condition Report is carried out every 10 years or when moving into or out of a property. Also if you suspect poor quality work has been carried out.
Rental Homes – Under the 'Landlord and Tenant Act (1985)' landlords must ensure the electrical installation in their rental property is maintained safely throughout a tenancy. BS7671 (wiring regulations) recommend an EICR is carried out at least every 5 years or on change of tenancy. A new law is due out in July 2020 where rental properties in England will require a Electrical Installation Condition Report every 5 years (landlords failing to comply will face a fine up to £30,000)
Businesses – Under 1974 'Health and Safety at Work Act' states employers are resposible for the health and safety of their employers and the 'Electricity at work regulations' which state precautions must be taken against the risk of injury from electricity used as part of work activities. BS7671 recommends having an Electrical Installation Condition Report every 5 years.
Why do I need an Electrical Installation Condition Report (EICR)
"Around 4 people a day are injured or killed in fires related to electrical faults, according to government statistics. Every home should have a regular EICR check to ensure your electrics are safe."
Just like taking your car to the garage for an MOT, or getting a heating engineer to service your boiler, we all need to get an approved registered electrician to check our electrics are safe.
Landlord Electrical Safety Certificate Plymouth
Landlord Electrical safety certificate Plymouth. Landlord Electrical safety certificate is an Electrical Installation Condition Report which involves an inspection of all electrical circuits, sockets, lights, fuse board and earth bonding to water and gas services. Specialist test meter (Megger Multifunction Tester) is used and the inspection normally takes between an hour to half a day depending on the number of electrical circuits and type of property. Goodwin Electrical, Electricians in Plymouth carry out landlord electrical safety certificates in Plymouth, Plymstock, Torpoint, Saltash, Liskeard and Looe.
All electrical accessories, circuits and cabling deteriorate with time and use. This is why it is so important to have everything checked to ensure either you or your tenants are not put at risk.
WHAT HAPPENS DURING THE INSPECTION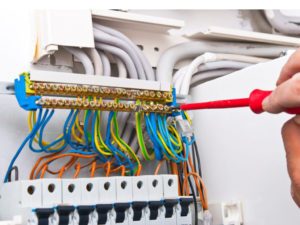 The testing will reveal if any circuits or parts of the installation are overloaded, identify if any parts of the installation are at risk of electrical shock and/or fire risk hazard. The report will also pick up on whether there is any defective DIY work which will need attention or if there is any lack of earth bonding on gas and water supplies.
Further testing will be carried out on wiring and on fixed point appliances such as appliances that are built in into your kitchen. Plug sockets are also tested so that you have a very thoroughly completed test report.
All our engineers are NICEIC approved with the relevant electrical qualifications and competence. The Electrician will check the electrical installation against the current requirements of BS 7671 Requirements for Electrical Installations (lET Wiring Regulations 18th Edition) which is the national safety standard for electrical installations.
On Completion of Inspection and Testing, a Electrical Installation Condition Report will be produced. This will be emailed as a PDF or forwarded in hard copy in the post.
How can you prepare for an EICR check?
• Be aware that we will need to turn the power off before working on the wiring. You will not have access to any electrical gadgets, so it may not be the best day to work from home. It might be easier to let us in and leave us to get on with the EICR for a few hours. It is possible to put circuits back on once they've been tested, but it will slow down the process.
• Ensure Goodwin Electrical have free access to all lights, sockets and light switches. This means clearing areas where they will need to work before they arrive (children's bedrooms, lofts and offices can be tricky).
• Don't expect Goodwin Electrical to issue you with a quote for remedial works immediately. It will take approximately 48 hours to process the data from the check itself before they can do this. It can take longer, particularly if you need extensive remedial works, which require a further visit from Goodwin Electrical to discuss options before they can issue a quote.
• Expect the report to uncover some 'failures' in your wiring system. Just because your lights switch on, it doesn't mean the underlying system is safe.
To book your electrical inspection or get a free quote call Goodwin Electrical on 01752 363915 or fill in our Request a Quote Form